---
---

This Brilliant Camera Has A 150 Degrees Viewing Angle And Motion Detection. Comes With A Built-In Magnet To Be Easily Attached To Any Metal Surface. Designed With Enhanced Night Vision And 1080p Full HD To Provide You With Real-Time Surveillance And Remote View. It Can Record 24/7 When Plugged Into Electricity But Also Comes With A Built-In Battery that Lasts Up To 3 Hours.
---

Guard Your Home Security Anytime Anywhere With The Wide Viewing Angle, Get Every Detail! 

150 Degree Viewing Angle: With a 150-degree viewing angle, the camera provides a wide viewing range in your room. It enables you to know every movement that happened in your house anytime anywhere.


Built-in Magnet: With the internal magnet, the hidden camera can be adsorbed on any iron surfaces. Is the perfect surveillance camera for the Office, Home, car, and more.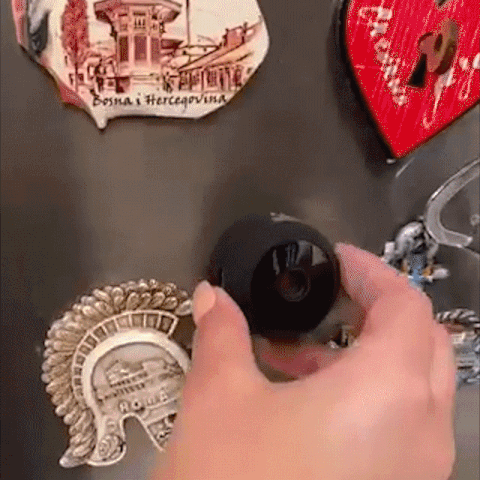 5M Enhanced Night Vision: Designed with an enhanced night vision of up to 5 meters, which allows you to see clearly in the dark.


1080P Full HD: This brilliant camera is designed with 1080P Full HD to bring you a vivid and clear view of its recordings. 


Real-Time Surveillance: This wireless IP camera lets you view real-time what's happening inside your home or office even while you're away on a vacation or a quick business trip. 


Remote View: The remote view can be accessed via the application (V380PrO) using iOS and Android smartphones.


Wifi Operation: This wireless IP camera can work on WiFi (2.4GHz WiFi only) or No WiFi. When it works on No WiFi, insert a Micro SD card (SD card not included) and turn on, the camera will start recording and save the video files to the SD card (SD card not included).


Motion Detection & Remote Alarm: Motion detection & alarm push, are the basis for this indoor security camera. You can not only see things in the dark but also capture anybody who is moving in the camera.


128GB TF Card Large Capacity: Supports Micro SD card up to 128GB, (TF card is not included)

6 Infrared Lamps: Finely engineered with 6 Infrared Lamps, Lightless And 5m Night Vision Range to provide you with the best viewing experience.


Hotspot Compatibility:  Works with mobile hotspots with an indoor range of 10M and an outdoor range of 30 to 50M


Share With Many Devices: Allows you to watch videos simultaneously on multiple devices with many other users.


App Control: Easily control the camera settings via the app control for night vision, screenshots, clarity, and adjustments.


Specifications: 
High Definition: 1080P(Full-HD) 
Lens (mm): 2.8mm 
Power Consumption(W): 1000mA 
Colors: White, Black 
Minimum Illumination(Lux): 0.001LUX 
Sensor: CMOS 
Megapixels: 2MP 
Video Compression Format: H.264 
Power Supply: With POE 
TF Card: 128G TF Card 
IR Distance(m): 10M 
Power Supply(V): DC 5V 
Viewing Angle: 150° 
Dimensions (L x W x D)(mm): 43*35*25 
Supported Mobile Systems: Windows Mobile, Android, iOS 
Network Interface: Wi-Fi/802.11/b/g 
Battery Endurance: 180 minutes 
Recording range: 5 square meters 
Power consumption: 240MA/3.7V 
Operating humidity: 15-85%RH 
stored temperature: -20-80 
Operating temperature: -10-60

Package Includes: 
1 x WiFi wireless camera 
1 x Magnetic bracket 
1 x Metal tab 
2 x USB Cables 
1 x Instruction Manual
Please allow 10-24 business days for the item to arrive. Please note: due to the ongoing global COVID-19 pandemic, some minor delays in product delivery are possible, we are doing our absolute best to make sure you get your products as soon as possible.
---