---
---

The Fascinating Self-adhesive Flexible Magnetic Tape Is A Great Alternative To A Glue Filled Mess! Keep Your Stuff Together, Neat, And Tidy Easily!  and Make Life Easier. Perfect For All Kinds Of Exciting Projects! Simply Peel Away The Roll And Carefully Stick Onto Your Chosen Surface – It's That Easy!
---


Organize And Tidy Your Home: Keep the items that you need within your reach, our Magnetic Strip makes chores easier and more manageable and keeps them in order at your fingertips.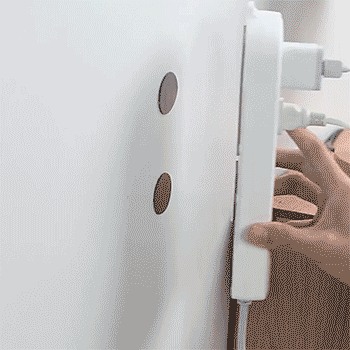 Versatile Use: Perfect to tidy up your office, school, or home. It holds many small objects such as rulers, sharpener, calculators, scissors, keys, and many others. 


Adjustable Capacity: You can easily increase the weight capacity by adding additional strips for heavier objects.


Cut to Any Length Or Shape: Our magnetic tape can be cut with any normal scissors to the length that you need, and it will fit exactly to the space you have! Offers you an excellent solution for your craft projects, office, and home, kitchen, whiteboards, automotive, garage, bathroom, classrooms, or any other place.


3M Strong Adhesive Backing: Just stick it to any smooth and dry surface. Our tape features a premium 3M adhesive made for sticking quickly and firmly to clean, smooth, and uniform paper, wood, stainless steel, painted steel, aluminum, glass, and rigid plastic surfaces. It doesn't leave any residue once removed!


Maximum Flexibility and Creativity: Great for teachers, students, nurses, office workers, DIY thinkers, mothers, craft artisans, and people who love to organize. Make your own bookmark, use on a whiteboard, organize things on the fridge, and many other things.


Excellent Sealing Tool: Easily use this for sealing any door that requires to be opened again or that opens by itself, such as door seals for refrigerators, liquor cabinets, anitary facilities, sauna rooms, or for sealing the window screen.


Instructions

The Magnetic Tape can be cut simply with scissors.
Method 1: Stick the adhesive side on any smooth surface and then use the magnetic side to attach your metal type things.
Method 2: Stick the magnetic side on a metal surface and use the adhesive side to stick your things.
Method 3: Stick one magnetic tape on any smooth surface firstly, then stick the other magnetic tape on your things and attach two magnetic tapes together. 

Specifications:
Sizes: 
Width:
10mm 20mm 30mm 
1 CM, 2 CM, 3 CM
0.3 IN, 0.7 IN, 1.1 IN
Length:  1 Meter / 3.2 Foot
Tape Thickness: 1 mm
Please allow 10-24 business days for the item to arrive. Please note: due to the ongoing global COVID-19 pandemic, some minor delays in product delivery are possible, we are doing our absolute best to make sure you get your products as soon as possible.
---