---
---

Drive Safely And Comfortably With The Enjoyable RoadComfort™ Universal Car Seat Belt Clip! The Adjustable Seat Belt Clip Allows You To Adjust The Tightness Of The Seat Belt And Increase Comfort. Easy To Operate And Install! Enjoy Every Minute Of The Road And Have A Pleasant Trip!
---


Comfortable Experience: 
This amazing RoadComfort™ Universal Car Seat Belt Clip will completely change the way you enjoy every trip! No more tight seat belts, now you can relax while you drive.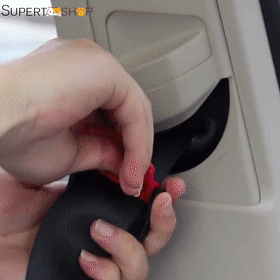 Easy To Install: 
Easy to install and use, this product is installed on the car seat belt to prevent wear and tear caused by friction between the clothes and the seat belt, reduce the pressure of the seat belt, and increase the feeling of comfort.


Great For Pregnant Women: 
Pregnant women can definitely enjoy a comfortable trip while using this amazing RoadComfort™ Universal Car Seat Belt Clips. No more tight or painful seat belts. This will completely change the way you feel when you sit in a car with a seat belt.

User-Friendly Design:  
It controls the tightness of the seat belt by adjusting the buckle on the back of the product, so the tightness of the seat belt can be completely contracted freely.


Available In 4 Different Colors: 
There are various colors for you to choose that can bring elegance to your car interior.


Premium Quality Materials: 
Made with the best quality PP+TPR to create a durable and long-lasting product.


How To Use: Use a coin to open the clip during installation and install it on the seat belt!


SPECIFICATIONS
Color: Black, Silvery, Red, Blue
Materials:  PP+TPR
Product Size:
(L X W X H) 
Product Size : 20 × 15 × 5cm / 7.9 × 5.9 × 2inches

PACKAGE CONTENTS 
Car Seat Belt Clips × 2
Size: 

Please allow 10-24 business days for the item to arrive. Please note: due to the ongoing global COVID-19 Crisis most airports, postal offices and shipping companies worldwide are operating under various government limitations, making additional local delays in product delivery very possible, we are doing our absolute best to make sure you get your products as soon as possible.
---