---
---
Are you always looking for a way to unclog your toilet without having to stick a plunger into your toilet, pulling it back and forth, and getting toilet water splashed all over the place? The Easyplunge™ is a toilet plunging tool that uses a very unique method to unclog toilets.
It allows you to unclog your toilet without creating any mess, in a matter of seconds! Works great for low-flow toilets that aren't compatible with a standard plunger.
---
Simply remove the Easyplunge™ from its wrapper, attach it the top of your toilet with the seat up, and press firmly around all edges of the sticker. Then flush your toilet; this will create a bubble of air between the Easyplunge™ and the stinky water below. You can then force the bubble down by pushing down on the center of the sticker over and over again until the clog is removed from your pipes. Then just remove the Easyplunge™ plunger from your toilet and throw it into the garbage.

Features:
Extremely durable so you'll never have to worry about forcing your way through it and plunging your hands into the nasty water. You can even stand on it!
Works great for low-flow toilets that aren't compatible with a standard plunger.
Very easy to use, and an alternative to a non-hygienic standard plunger.
2 pcs set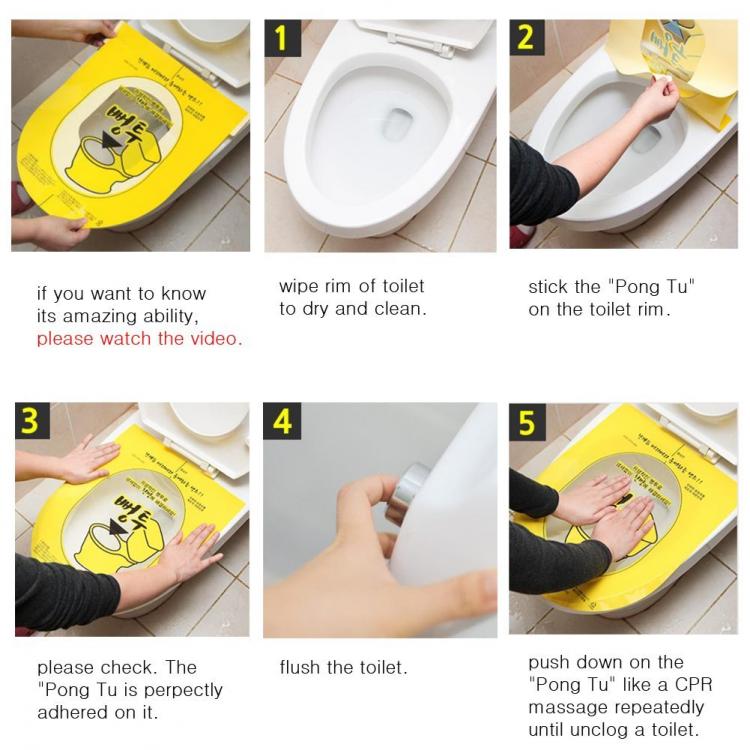 Please allow 10-24 business days for the item to arrive. Please note: due to the ongoing global COVID-19 Crisis most airports, postal offices and shipping companies worldwide are operating under various government limitations, making additional local delays in product delivery very possible, we are doing our absolute best to make sure you get your products as soon as possible.
---