---
---
These Sport Earbuds Remain In Place And Are So Comfortable That You Won't Feel Them As You Do Your Favorite Sports!  
The Latest And Greatest In Earbud Technology That Cancels External Noise And Gives You A Finely Engineered Hifi Sound Quality!
Its Impressive Power Bank Capacity Of 2600mAh Is Perfect To Easily Charge Your Earbuds Or Smartphone On The Go. 
Features:
IPX6 Waterproof
Bluetooth Latest 5.0 Version
Touch Control
---
HiFi Sound Quality: The VV2 Tws Wireless Headphones Sport Earbuds do not compromise the standards of sound quality. They come with HD communication experience for calling and Hi-Fi auditory effects for music.

HD Sound: the wireless earbuds feature a speaker that delivers HD audio fine-tuned for a listening experience so crisp and clear, just like you are listening live.

Upgraded Bluetooth V 5.0: Bluetooth 5.0 is the latest version of the Bluetooth wireless communication standard. It's commonly used for wireless headphones and other audio hardware, as well as wireless keyboards, mice, and game controllers. Bluetooth 5 is faster than Bluetooth 4, Bluetooth 4 supports 50m in the outdoor range and 10m in the indoor range making it low whilst Bluetooth 5 supports 200m in the Line of Sight path in the outdoor environment and 40m in the indoor environment.

True Wireless Stereo: TWS or True Wireless Stereo refers to a technology that allows you to pair two audio devices via Bluetooth, meaning that you can transmit the L channel (left) and the channel R (right) separately.

Noise Reduction Chip Technology: Designed with an active noise reduction chip technology will provide a crystal clear sound on this set of earbuds.

Comfortable Design: They come with secure-fit ear hooks for lightweight comfort and stability. They are placed on the outside of your ear so you won't feel them and their user-friendly shape adjusts easily. They remain in place when you run or do sports, you won't even feel them!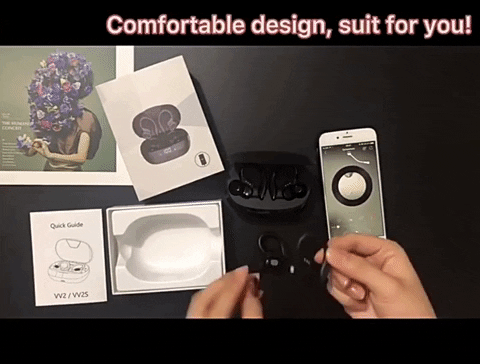 Magnetic Charging Compartment: Are you on the go and forgot to charge earphones? Simply put them back in the case and they will get charged automatically. The charging compartment is made of military-grade durable materials that make it sturdy and durable, charge faster, and protect the charging port.

VV2 & VV2 With Power Bank Options:
You can choose between two options the standard version that comes with a Charging compartment battery capacity of 600 mAh (variants VV2 Black / Red)
and the power bank version that comes with a charging compartment of 2600mAh so you can charge your mobile phone or any other device if you need while on the go.
(variants PowerBank Black / Red)



One-Touch Control:
Your wireless earbuds have a touch sensor control that you can tap to control music playback, volume, play, pause.



IPX6 Waterproof:
The IPX6 rating means the electrical equipment inside the headphones is protected against sweat and accidental water splash

CONNECTIVITY: The most advanced Bluetooth 5.0. the system accurately compatible with all smartphone devices and tablets (Android and iOS).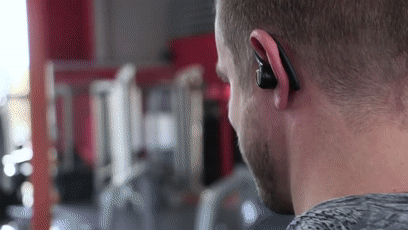 Please allow 10-24 business days for the item to arrive. Please note: due to the ongoing global COVID-19 Crisis most airports, postal offices and shipping companies worldwide are operating under various government limitations, making additional local delays in product delivery very possible, we are doing our absolute best to make sure you get your products as soon as possible.
---